Fire Door Inspection
Fire door inspection, remedial services and certification–
Tradeline Door Inspectors are fully accredited to undertake a range of fire door inspections and certifications
How often should Fire Doors be checked?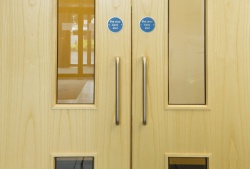 Regular inspections and maintenance will ensure your fire doors are compliant and fit for purpose and should be considered in the same way as regularly testing a fire alarm or a fire extinguisher. Due to general use, traffic flow and wear and tear, all fire doors should be checked by the appointed competent person/contractor every 6 months to ensure that they function correctly. Any defect, damage or fault with the door should be reported and rectified immediately.
Our experts check a range of things, including whether each door:
Has the correct fire rating for its location
Is fitted properly, without the type of gaps that can damage the building's compartmentation
Is not damaged in a way that would impair its performance in the event of a fire
Has the right hardware and closers, and that they function correctly
Has the right intumescent strips
Is properly identified on both the door signage and in the building's asset register
Where appropriate, has the right type of glazing and that it is fitted correctly
On completion of your fire door inspection, you will be provided with a detailed report describing each door's condition and highlighting any necessary remedial work. Where doors are found to be non-compliant, we also supply a detailed quote for the work required to rectify the defects.
Fire Door Certification
Tradeline's fully-trained and accredited team offer fire door certification services for both new builds and older sites.
For new builds, our specialists assess the quality of the initial fire door installations before handover to ensure your site complies with Building Regulations and satisfies your insurer's requirements. The work includes assigning each door a unique tag number and certificate, which can then be used as the basis of the fire door section of the site's asset register.
In existing buildings, our inspectors check the condition of the fire doors and recommend any repairs required to improve safety and achieve full RRO compliance. Once faulty doors have been replaced or defects repaired, our team will issue the appropriate new certificates.
Please contact our team with your enquiry for further information